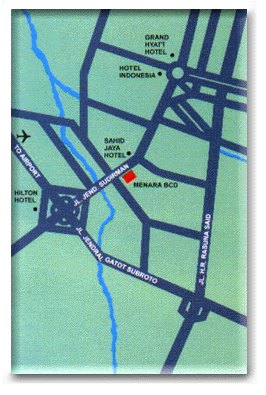 A TOTAL WORKING ENVIRONMENT
The BCD is a landmark in the heart of the commercial and the financial district of Jakarta City. The building commands a choice of location, along Jalan Jend. Sudirman, one of the prominent boulevard. Strategically, it makes the best of panoramic views for the occupants and it is also very noticeable as a distinguished urban form from the highway interchange further South and the surrounding.
IDENTITY
The building design captures the unique quality of the site with a land mark tower, highligthed by a stark facade of slick aluminum cladding complimented by bards of horizontal cool grey tinted windows which provide 360 degrees views.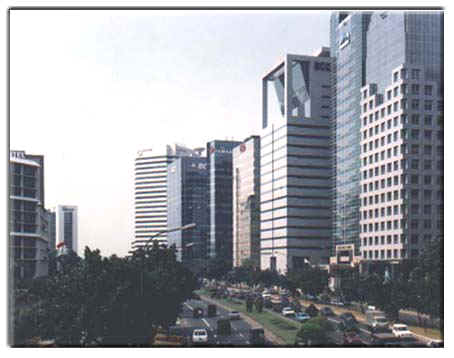 An interesting "notch" into the building facade at the entrance way carries up the building, breaking it's smooth clean facade, and climaxes at the sky garden, the first of it's kind in Jakarta. The sky garden at the executive floors, with lush green and inclined glass facade reinforces the "landmark" concept by further catching viewers attention from the surrounding.
The BCD building is also a very approachable tower. The impressive "drive-throughdrop-off"offers a formal and a well sheltered arrivals for the visitors of the building. The main entrance is highlighted by a 3-storey atrium space over the drop-off.
The horizontal pattern of the glass and aluminum finishes lines both walls of the grand entrance concourse., and, at your feet, polished marble slabs guide you to intimately scaled lift lobby.
The clear glass and cool grey aluminum paneling in the concourse, enhance by the polished marble floor, create an interesting interplay of shadow and light.